Our Sustainability Plan
In light of last year's unfortunate events we have developed this separate page to highlight our intent for the year to come. We are dedicating this year to doing our bit to help and reduce the impact we have on the environment by pledging to you that we will make a positive impact. Throughout the year we will be putting in place many initiatives and .changes to ensure we are doing our bit to reduce our overall carbon footprint for the future generations of this world and to positively benefit any guests who stay with us as well. The journey starts January 1st 2022. Below is a summary of our monthly activities and seasonal aims.
Follow our journey closer on our Instagram @thecapitalhotel.
Disclaimer – Due to the times we live in our plans could change overnight. We will continue to do our best to add to the below plan and modify where needed

Quarter One - Our Reflective Pledge
We start this year as we mean to go on with our renewed focus on sustainable travel and looking deeper into our own impact / carbon footprint to see where we can improve ourselves. This first two months before the start of spring we focus on the small immediate impact items which we can change but also do a deep dive into future requirements and our own impact as we start 2022. The journey begins today.

January - Big launch month & How our guests can be more sustainable at the hotel
February - Removing plastic water bottles from rooms

Quarter Two - Little Steps That Make a Big Impact
Continuing on from the small immediate improvements we made over the first two months we continue our pledge into Spring. Our mini aim this month is to make more little steps that have overall big impact. We start Spring with a big change for our hotel going paperless where we can across all departments, utilising technology and scannable codes to share information. From all the trends going into 2022 we will be following suit reducing plastic and informing you about sustainable toiletries.

March - Reducing printed menus & unnecessary printing & Nespresso pods recycling
April - The Capital travel flasks & download the refill app when moving around London
May - Organic toiletries & our green pack

Quarter Three - Technological Progression
The modern world benefits greatly from the efficiency and practically of technology to information and in some case run our lives. The topic of sustainability has allowed and manifested incredible technological advancements to doing better for this world. Hence why this month we are focusing on technology here at the hotel and how we can source and implement latest advancements to help improve our processes in the hotel for guests but also from the unused or dated spaces we have around the hotel which can be used for a greater purpose.

June - Solar panels
July - In room tablet crave technology & keyless entry
August - Car charging & promoting only using electric taxi

Quarter Four - Sustainable Christmas Decoration
Sourcing and understand the supply chain of your food produce and bar products we buy is one of the challenges to improving our own sustainability. Mastering the process of before, during and after to reduce our impact. We are dedicating the next three months to our F&B department to work with new sustainable producers, expand on our herb production and implement new menus dedicated to organic produce. To put in place procedures to have a lasting impact not just when we talk about it

September - Herb Garden 2.0 & Worm composting bin / Potential bee hive or Bug hotel
October - Disgarded Spirits & Upscaling spirit bottles to candles
November - Stand-alone organic all day dining menu & smoothies of the day
Festive 2022 - Sustainable Christmas Decoration
This month sees an incredible amount of waste being produced due to the time of year. Building upon last year's creations from our craftsman Vinnie, we will be using them once again outside the hotel plus creating some other upscaling items from left over stock.

December - Upscaling decorations & Investigate sustainability awards and accreditations

Upscaling our efforts into 2023 as the mission does not stop here from the changes we have made, still more can be done. We hope you have enjoyed watching us improve our sustainable efforts over the last year and taken inspirations yourself on the areas you could change. Keep up to date on our continued progress on our Instagram @Thecapitalhotel.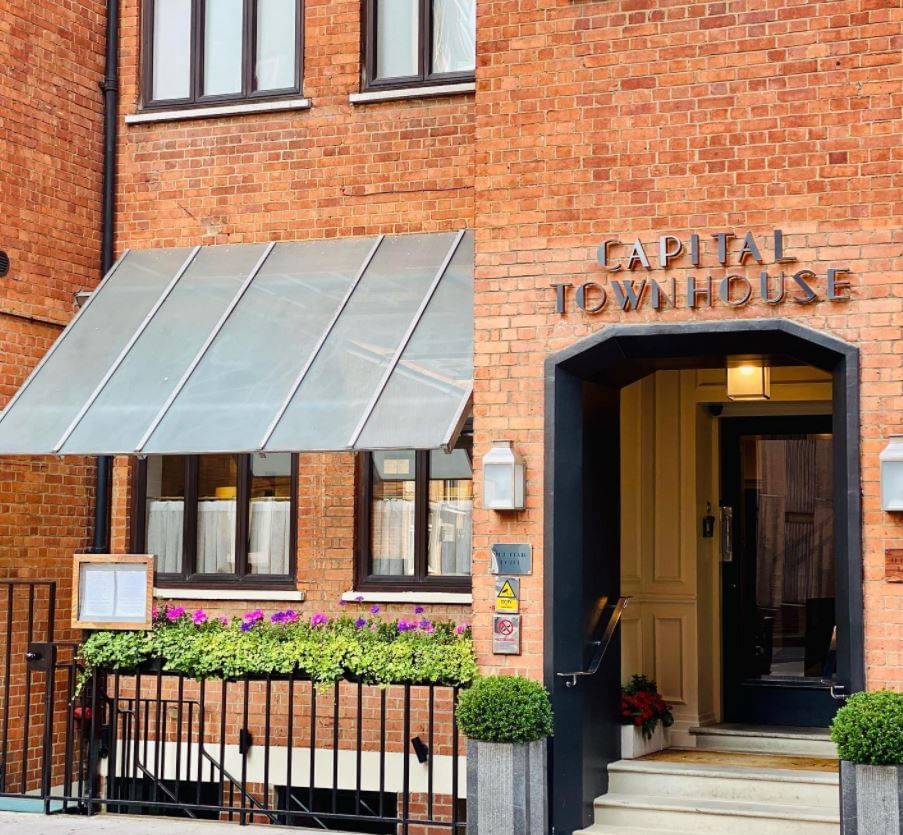 Mission Sustainability
The Eco Townhouse Project
Our aim for The Capital Townhouse is to convert it into our sustainability building upgrading and improving as many aspects as we can until the end of the year where we hope to gain industry accreditation to mark our efforts. Some of our planned activities for the Townhouse are as follows;
1. Compostable nespresso pods
2. In room tablet technology
3. Eco honesty bar
4. LED lighting