Margaux Restaurant
Savour a fine dining experience where classic Pacific Northwest cuisine, sophisticated yet casual ambience and warm, friendly service come together seamlessly.
Announcement
The Restaurant & Bar are now fully open for Dinner.
Breakfast currently serving in house guests for pick up or door drop orders only.
Please see Breakfast and Dinner menus below. Thank you for your patience and understanding during this time.
We also have new temporary opening hours which are:
Breakfast served from 7.00am to 11.00am
Restaurant dining room open for in person dining from 5:00pm to 11:00pm.

---
Margaux Restaurant showcases an enticing menu highlighted by local ingredients and creative cooking styles. The dining room's European-style flair and open kitchen create a vibrant setting for any occasion, whether it's a family meal, romantic, date night dinner for two or a business gathering in Downtown Seattle.
Learn more at margauxseattle.com. For special occasions, brunch or dinner reservations please call (206) 219-2224 or email us at margauxseattle@warwickhotels.com.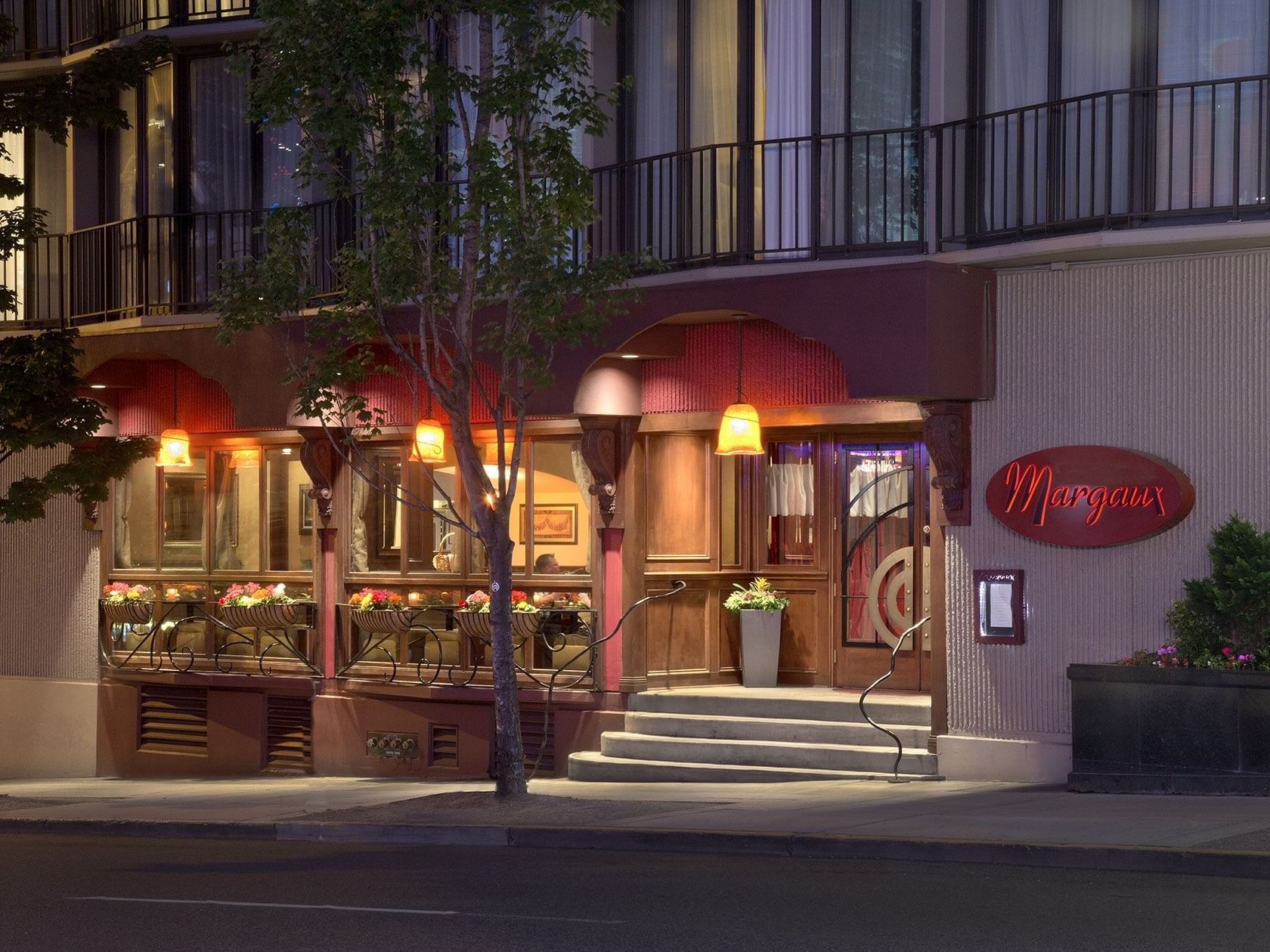 Creative cooking styles, local ingredients.
7.00am -11.00am
Available for pick-up (lobby level) or delivery to door (a fee of $5 will be added to delivered items).
Continental Breakfast
Assorted breakfast pastries with preserves, butter and yogurt.
Choice of juice and coffee or tea - $16

Create your own omelet
Choice of three: peppers, onions, mishrooms, cheddar, tomato, bacon or sausage.
Served with hashbrowns. Egg white only option available - 16$
Breakfast wrap*
Egg, sausage, spinach in flour tortilla - $10
Brioche French Toast
Vanilla-cinnamon brioche, powdered sugar, maple syrup - $13
Avocado Toast*
Fresh crushed avocado, poached eggs, sautéed spinach and grape tomatoes,
Mille Grane toast, lemon zest - $14
Fresh Fruit Plate
Assorted fruit, yogurt - $14
Beverages
Coffee: Regular, Decaf, Cream - $4
Juice: Apple, Tomato, Orange - $4
Tea: English Breakfast, Sencha Green, Mint, Lemon Ginger,
Raspberry Hibiscus, Spice Chai, Earl Grey, Chamomile - $4
5.00pm to 11.00pm
STARTERS

Pacific Razor Clam Chowder
Fresh Clams, Local Herbs & Creamy Butter with Brioche
Bowl $8
Cobb Salad
Marinated Chicken, Bacon, Bleu Cheese, Tomato, Cucumber,
Avocado, Creamy Bleu Cheese Dressing
$13
Tomato Basil
Herbs, Spices, Rich Tomato Broth, Garlic & Cream
Bowl $7
Chicken Caesar Salad
Grilled Chicken, Chopped Romaine Hearts,
Garlic Croutons, Parmesan & Caesar Dressing
$13
Bruschetta
Grilled Rosemary Bread, Tomato Basil Concasse, Parmesan
$7
Buffalo Wings
Marinated Chicken Drumettes, Celery Bleu Cheese Sauce
$8
ENTRÉES
Classic Cheese Burger
8oz. Ground Chuck Patty, American Cheese, Bacon,
Caramelized Onions on Brioche Bun with Fries
$13
Margaux Club Wrap
Honey Smoked Turkey, Bacon, Lettuce, Tomato,
Gruyere, Cranberry Chutney in Flour Tortilla w/ fries
$12
Mushroom & Swiss Burger
Sautéed Mixed Mushrooms, Swiss Cheese & Garlic
on Brioche Bun with Fries
$14
Fish & Chips
Ale Battered Cod Fillets,
Coleslaw, Green Apple Remoulade w/ Fries
$13
Chicken Burger
6oz Marinated Chicken Breast, Swiss,
Lettuce, Tomato on a Brioche Bun w/Fries
$13
Fettucccini
Mushrooms, Romano-Cream, Garlic Bread
Served With Chicken $13 Prawns $18
Grilled Top Sirloin Steak
Local Royal Ranch 8oz Top Sirloin Steak
Peppercorn Sauce, Mashed Yukon Potatoes, Vegetables
$28

Desserts
Triple Layer Chocolate Cake $6
Cheesecake $7
Soft Drinks
Pepsi, Diet Pepsi, Sierra Mist, Diet Dr. Pepper or
Lemonade $4
Coffee
Regular or Decaf $4
Latte, Cappuccino $5
Espresso, Americano $4

HAPPY HOUR

House Red or White Wine
Viu Manent Chardonnay & Cabernet Sauvignon
Glass $6 Bottle $28
Additional Wines Include
Kiona Chardonnay Glass: $12 Bottle: $38
Erath Pinot Gris Glass: $10 Bottle: $44
Kiona Cuvee ( Cab/Merlot Blend) Glass: $11 Bottle: $43
Brandborg Pinot Noir Glass: $11 Bottle: $48
Draft Beers $5
Maritime Old Seattle Lager, Imperial IPA, Stella Artois
Mack & Jacks, Widmere Hefeweizen
Bottle Beers $5
Budweiser, Bud Light, Heineken, Corona
Well Drinks $6
Bourbon, Scotch, Gin, Vodka
Rum, Brandy, Tequila
Your Favorite Cocktail Also Available

Chef: Alfredo Sanchez
Consuming raw or undercooked meats, poultry, seafood, shellfish, or eggs may increase your risk of foodborne illness.
Prices do not include sales tax. A delivery fee does not apply to beverage only orders.
SPECIALTIES
*King Salmon Lox :

House-cured Grava lox, soft poached eggs, crispy potato cakes, lemon crème fraiche, pickled Napa horseradish slaw

$15

*Corned Beef Hash :

House-made corned beef, Yukon potatoes, two poached eggs, onions, bell peppers grilled Pugliese bread, paprika hollandaise

$15

*Seattle Salmon Scramble (Gluten free) :

BBQ Salmon, scrambled eggs, red onion, spinach, Gruyère

$17

*California Benedict :

Two poached eggs, grilled turkey, tomato, avocado, English muffin, hollandaise, hash browns

$16

*Eggs Benedict :

Two poached eggs, Canadian bacon, English muffin, hollandaise, hash browns
Substitute smoked salmon - $19
Substitute crab meat - $21

$16

*The Seattleite :

Two eggs, bacon, sausage, hash browns, toast

$16
GRIDDLE & IRON
Bananas Foster French Toast :

Egg-battered brioche slices, banana caramel, pecan pralines, vanilla ice cream, maple syrup

$14

Brioche French Toast :

Egg-battered vanilla-cinnamon brioche slices, powdered sugar, maple syrup

$12

Buttermilk Pancakes (Gluten free) :

Buttermilk pancakes, butter, maple syrup

$10

Blueberry Pancakes (Gluten free) :

Buttermilk blueberry pancakes, sweet butter, maple syrup

$12

Belgian Waffle :

Honey malted waffle, butter, maple syrup

$12

*Chicken & Waffles :

Buttermilk marinated country fried thigh, honey malted waffle, Sriracha maple glaze

$17

Bacon Stuffed Belgian Waffle :

Bacon stuffed honey malted waffle, strawberries, whipped cream, maple syrup

$14
11AM-1:30PM Saturday / Sunday
ENTREÉS
*Buffalo Grilled Chicken Cobb Salad :

Spicy buffalo style chicken breast strips, bacon, bleu cheese,
tomato, cucumber avocado, creamy bleu cheese dressing

$13

Soup :

Pacific razor clam chowder with brioche crouton
French onion soup au gratin
Cup / Bowl

$6 / $8

Fish & Chips :

Ale battered cod fillets, coleslaw, green apple remoulade, fries
Substitute Prawns - $16

$13

Caesar Salad :

Chopped romaine hearts, garlic croutons,
Parmesan tuile $10
Add grilled salmon $6
Add grilled chicken $5
Add grilled shrimp $6

$10

*Classic Bacon Cheeseburger :

8 oz. ground chuck patty, American, bacon, caramelized onions, brioche bun, fries

$13

Margaux Clubhouse :

Honey smoked turkey, bacon, lettuce, tomato, gruyère, cranberry chutney,
mayonnaise, toasted sourdough bread, fries

$13

Fish Tacos :

Breaded Pacific cod, flour tortillas, grilled corn tomato salsa, lime crema, avocado, cilantro

$12

*Seared Ahi Tuna :

Napa cabbage slaw, sweet soy, wasabi aioli, pickled cucumbers

$12

*Dungeness Crab Cake :

Jalapeño aioli, snow peas, carrot gaufrettes, chives

$14
APPETIZERS
*Seared Ahi Tuna :

Napa cabbage slaw, sweet soy, wasabi aioli, pickled cucumber

$12

Bruschetta :

Grilled rosemary bread, tomato, garlic, basil, Parmesan

$7

*Seared Mussels Frites :

Steamed local mussels, saffron cream, shoestring potatoes

$9

Chili-Glazed Calamari :

Sweet and spicy sambal glaze, fried won ton, cabbage slaw, spring onion

$7

Dungeness Crab Cake :

Panko-breaded crab cake, snow peas, jalapeño aioli

$14
SOUPS
French Onion :

Onion, sherry, crostini, Gruyère
Cup / Bowl

$6 / $8

Soup Du Jour :

Chef's daily selection
Cup / Bowl

$6 / $8

Pacific Razor Clam Chowder :

Brioche crouton
Cup / Bowl

$6 / $8
3 Course Prix Fixe - $35
Choice of Starter, Entrée, and Dessert
ENTRÉES
*Grilled Nor thwest Salmon :

Sweet corn polenta, escarole, tomato-thyme confit

*Maple-Brined Pork Chop :

Braised Swiss chard, twice baked Yukon potato, pear-thyme coulis

Butternut Squash Ravioli :

Tomato sage butter, crispy Brussels sprouts, feta
STARTERS
Soup Du Jour :

Prepared fresh daily – ask about today's selection

Caesar Salad :

House-made dressing, garlic croutons, Parmesan tuile
DESSERTS
Apple Tar te Tatin :

Baked Granny Smith apple, puff pastry, cinnamon ice cream, caramel

Crème Brûlée :

Silky vanilla bean cream with a crispy caramelized sugar crust
TAPAS
Mushroom Quesadilla :

Grilled button mushrooms, Jack, flour tortilla, tomato, green onion, guacamole, pico de gallo

$9

Bavarian Pretzel Bites :

Rock salt, choice of plain or jalapeño cheddar sauce

$9

*Sambal Glazed Calamari :

Sweet & spicy sambal chili glaze, fried wonton,
Napa slaw, spring onion

$10

*Barbeque Pork Slider :

Slow cooked pork, Napa cabbage slaw, brioche bun

$9

Bacon Cheddar Tater Tots :

Grated russet potato, bacon, cheddar, sour cream ranch dip

$7

Mushrooms and Olives :

Medley of marinated olives, mushrooms, roasted sweet peppers, hummus, toasted pita

$10

Bruschetta :

Grilled rosemary bread, tomato basil concasse, Parmesan

$7

Coconut Prawns :

Coconut crusted tiger prawns, mango jalapeño salsa, spring onion

$11

Buffalo Wings :

Marinated chicken drumettes, celery, bleu cheese sauce

$8
LOUNGE MENU
Soup :

Pacific razor clam chowder with brioche crouton. French onion soup au gratin
Cup 6 Bowl 8

$6 / $8

Caesar Salad :

Chopped romaine hearts, garlic croutons,
Parmesan tuile $10
Add grilled salmon $6
Add grilled chicken $5
Add grilled shrimp $6

$10

Buffalo Grilled Chicken Cobb Salad :

Spicy buffalo style chicken breast strips, bacon, bleu cheese, tomato, cucumber avocado, creamy bleu cheese dressing

$13

*Classic Bacon Cheeseburger :

8 oz. ground chuck patty, American, bacon,
caramelized onions, brioche bun, fries

$13

Fish & Chips :

Ale battered cod fillets, coleslaw, green apple remoulade, fries
Substitute Prawns $16

$13

*Fish Tacos :

Breaded pacific cod, flour tortillas, lime crema,
grilled corn tomato salsa, avocado, cilantro

$12

Margaux Clubhouse :

Honey smoked turkey, bacon, lettuce, tomato,
gruyere, cranberry chutney, mayonnaise,
toasted sourdough bread, fries

$13

Seared Ahi Tuna :

Napa cabbage slaw, sweet soy, wasabi aioli, pickled cucumbers

$12

*Dungeness Crab Cake :

Jalapeño aioli, snow peas, carrot gaufrettes, chives

$14

*Steamed Mussels or Clams :

Garlic, tomato, basil, white wine

$9

*Cajun Chicken Fettuccini :

Chicken breast meat, Cajun spiced alfredo sauce, snap peas, Parmesan

$13

Turkey Baguette :

Honey smoked turkey, gruyère, mayonnaise, Pacific razor clam chowder

$12
HAPPY HOUR 4-7 PM
Tapas three for the price of two
Pomegranate Margarita :

Pancho Villa Tequila, house made margarita mix, lime sour, pomegranate

$9

Green Apple Martini :

Smirnoff vodka, Apple Pucker, Triple Sec, lemon sour

$8

Draft Beer :

Shock top, Mac and Jack's African Amber, Stella Artois, Maritime Old Seattle Lager, Maritime Imperial Ipa

$5

Wells :

Jim Beam, Smirnoff, Gordon's, Scorseby's, Bacardi, Christian Brothers, Poncho Villa

$6

House Red or White wine

$6
WHITE WINES - BY THE GLASS
(Rosé) Domaine le Close des Lumieres :

Rhône Valley, France 2017

$10

Viu Manent Chardonnay Reserva :

Colchagua, Chile 2017

$8

Erath Pinot Gris :

Willamette Valley, Oregon 2016

$10

Kiona Chardonnay :

Red Mountain, Washington 2017

$11

Viu Manent Sauvignon Blanc Reserva :

Colchagua, Chile 2017

$8
RED WINES - BY THE GLASS
(Port) Fonseca LBV :

Portugal two ounce portion 2003

$11

(Port) Dow's Tawny :

Portugal two ounce portion NV

$9

El Cipres Malbec :

Mendoza, Argentina 2017

$9

Kiona Estate Cuvée :

Red Mountain, Washington 2014/16

$11

Viu Manent Cabernet Sauvignon Reserva :

Colchagua, Chile 2017

$8

Eola Hills Pinot Noir :

Willamette Valley, Oregon 2013

$12

Pozzan "Annabella" Merlot :

Napa Valley, California 2015

$12
SPARKLING WINE - BY THE GLASS
Freixenet Brut Blanc de Blanc :

Cava, Spain 187ml bottle NV

$12
WHITE WINES - HALF BOTTLES
Domaine Talmard Chardonnay :

Macon, France 2017

$21

King Estate Pinot Gris :

Willamette Valley, Oregon 2016

$36
RED WINES - HALF BOTTLES
Elk Cove Pinot Noir :

Willamette Valley, Oregon 2015

$41
FEATURED WINES - WHITE
Robert Mondavi Fume :

Napa Valley, California

$72

Erath Pinot Gris :

Willamette Valley, Oregon 2016

$44

Antica Chardonnay :

Napa Valley, California 2014

$67
FEATURED WINES - RED
Ferrari Carano Pinot Noir :

Anderson Valley, California 2014

$89

Chateau de la Gardine Chateauneuf du Pape :

Alpes-Côte d'Azur, France 2004

$99

Virginia Dare Pinot Noir :

Russian River Valley, California 2014/15

$59
WHITE WINES - NORTHWEST
Elk Cove Pinot Blanc :

Willamette Valley, Oregon 2013/14

$55

Kiona Chardonnay :

Red Mountain, Washington 2017

$38

Chateau Ste. Michelle Riesling :

Columbia Valley, Washington 2015

$39

McCrea Cellars Viognier :

Yakima Valley, Washington 2010

$65
WHITE WINES - CALIFORNIA
Donati Family Vineyards Chardonnay :

San Benito County, California 2015

$31

Cakebread Sauvignon Blanc :

Napa Valley, California 2013/16

$79
WHITE WINES - INTERNATIONAL
(Rosé) Domaine le Close des Lumieres :

Rhône Valley, France 2017

$32

Viu Manent Chardonnay Reserva :

Colchagua, Chile 2017

$28

Viu Manent Sauvignon Blanc Reserva :

Colchagua, Chile 2017

$28

Domaine Cherrier Sancerre :

Loire Valley, France 2017

$59

Domaine Talmard Chardonnay :

Macon, France 2016

$35

Joseph Drouhin Voudon :

Chablis, France 2015

$55
RED WINES - NORTHWEST
DeLille Cellars D2 :

Columbia Valley, Washington 2013

$95

Hogue Genesis Cabernet Sauvignon :

Columbia Valley, Washington 2014/15

$60

Chateau Ste. Michelle Cabernet Sauvignon :

Columbia Valley, Washington 2015

$54

Kiona Estate Cuvée :

Red Mountain, Washington 2014

$43

Chateau Ste. Michelle Merlot :

Canoe Ridge, Washington 2014/15

$52

Seven Hills Vineyard Merlot :

Columbia Valley, Washington 2012/13

$76

Airlie Pinot Noir :

Willamette Valley, Oregon 2011

$59

Erath Pinot Noir :

Dundee Hills, Oregon 2015

$51

Eola Hills Pinot Noir :

Willamette Valley, Oregon 2013

$48

Domaine Drouhin Pinot Noir :

Willamette Valley, Oregon 2015

$93
RED WINES - CALIFORNIA
Silver Oak Cabernet Sauvignon :

Napa Valley, California 2009

$199

Alexander Valley Vineyards Cabernet Sauvignon :

Alexander Valley, California 2015

$69

Jordan Cabernet Sauvignon :

Alexander Valley, California 2011

$128

Shafer Merlot :

Napa Valley, California 2012/13

$114

St. Francis Merlot :

Sonoma Valley, California 2012/15

$66

Pozzan "Annabella" Merlot :

Napa Valley, California

$40

Ravenswood Zinfandel :

Sonoma Valley, California 2015

$55
RED WINES - INTERNATIONAL
Casa Lapostolle Cuvée Alexandre :

Colchagua Valley, Chile 2013

$50

Viu Manent Cabernet Sauvignon Reserva :

Colchagua, Chile 2017

$28

Antinori Santa Cristina Sangiovese :

Tuscany, Italy 2013

$58

Lan Reserva :

Rioja, Spain 2010/11

$43

Banfi Chianti Classico :

Tuscany, Italy 2016

$44

El Cipres Malbec :

Mendoza, Argentina 2017

$34

Tinto Pesquera Reserva :

Ribera del Duero, Spain 2012/14

$139

Tinto Pesquera :

Ribera del Duero, Spain 2010/14

$74

Chateau Guillou Montagne St-Emilion :

Bordeaux, France 2015

$42

Bouchard Pinot Noir :

Burgundy, France 2014

$47

Domaine Notre Dame des Pallières Gigondas :

Rhône Valley, France 2013/14

$49
CHAMPAGNE & SPARKLING WINES
Louis Roederer Cristal :

Reims, France 1999/2000

$445

Argyle Brut :

Willamette Valley, Oregon 2012/14

$59

Möet & Chandon Imperial :

Epernay, France NV

$154

Dibon Cava Brut Reserva :

Catalunya, Spain NV

$35

Montelliana Prosecco :

Treviso Province, Italy NV

$38

Veuve Clicquot Yellow Label Brut :

Reims, France NV

$185

Möet & Chandon Dom Pérignon :

Epernay, France 2002/06

$344