Le Grand Hôtel des Thermes
Your perfect getaway spa hotel in St. Malo, France
Find five-star perfection at Le Grand Hôtel des Thermes, the ideal accommodation for a weekend getaway, short break or spa retreat. Set on the beachfront of Saint-Malo, France, this Belle Époque-style luxury hotel is a beautiful combination of stone and metal, with majestic architecture overlooking the open sea and surrounded by vast expanses of sand. Fabulous beachside sea views can be admired from the superb terrace, lounges, rooms and suites. Dedicated to your complete well-being, the internationally renowned Thermes Marins Spa and Thalassotherapy Centre showcases an impressive array of spa treatments, while four distinctive dining options and exceptional resort services including a kids club and fitness centre complete your hotel experience.
Key Features
Le Grand Hôtel des Thermes proudly offers guests an exceptional array of services and boutique amenities, including a kids club, hair and beauty salon, shopping boutique, heated indoor saltwater swimming pool, water sports, four restaurants and five elegant meeting rooms.
Fitness center

Health club

Water sports

Gymnasium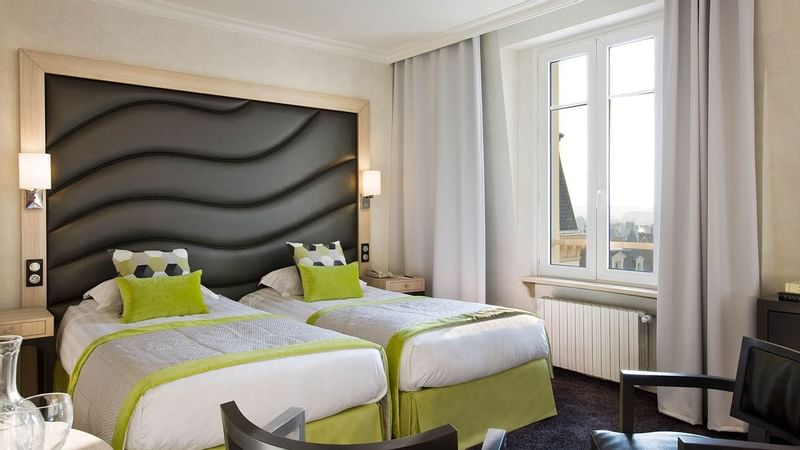 Providing comfort and lovely sea views, our Escale Supérieure Mer ou Sud has 30m² of space with an extra-large bed that can be separated into two twins. Offering hardwood furniture and complementary light green and beige with dark brown carpet and accents, this comfortable room on the beachfront of Saint-Malo, France also features a bathroom with shower or bath and WC.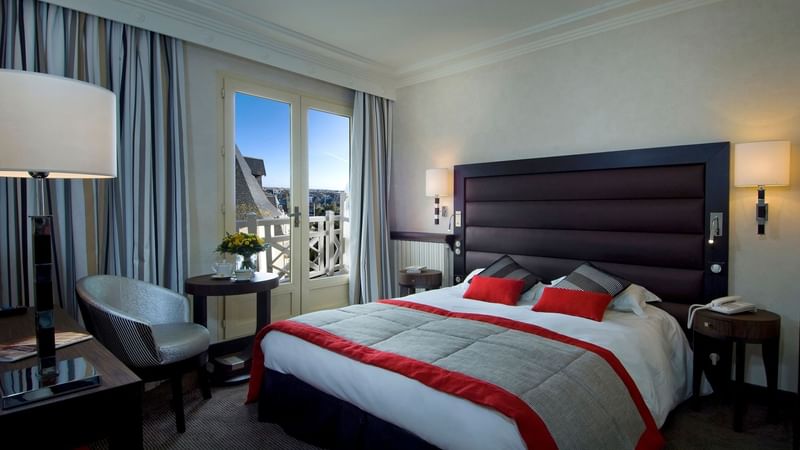 Facing south with incredible views and immense comfort, our Transat Emeraude offers 24 m² of space and a double bed that can also be separated into two twin beds on request. The décor of dark wood with vibrant red accents is warm and welcoming, while the modern bathroom offers a bath and WC. Connecting rooms and baby cot are possible.
View all rooms
Contact & Location
Le Grand Hôtel des Thermes
100 Boulevard Hébert - 35400 Saint-Malo, France
Skip Map
The Grand Aquarium
One of the most popular tourist attraction in Brittany, the Saint-Malo aquarium houses more than 10 000 fish. Experience the 360 degree shark ring, as well as the oppourtunity to interact with many local marine species in the touch pool and experience a realistic undersea simulator.
St Vincent Cathedral
Starting in the 12th century, the cathedral was built in the Romanesque, Gothic and Renaissance styles and restored in the 1970s to repair World War II damage. Marvel at the magnificent stained glass windows and visit the tomb of Jacques Cartier, famous for exploring North America and claiming Canada for France.
Saint-Malo Marina
Stroll through the marina just to the east of the old town and get a glimpse of Saint-Malo's seafaring past. Historically the home of corsairs, privateers and pirates, these days Saint-Malo is the start of the single-handed transatlantic La Route du Rhum yacht race and a stop on the Tall Ships race. Learn new rowing and sailing skills at the nautical centre to navigate the Rance River and Brittany coast.
Fort National
A granite fort built into the rock on a tidal island just off the coast. Designed in the 17th century by great military architect Vauban to protect the port of Saint Malo, the Fort National can be visited on foot at low tide.
Dinard Aeroport
Located conveniently 25 minutes from Saint-Malo, Dinard Aeroport provides visitors with the opportunity for flying lessons, getting certified for a private pilot's licence and EASA Airline Transport Pilot's Licence, exploring the coast by microlight and chartering a private jet, small aircraft or helicopter.

Le Cap Horn
Cuisine Type: Continental
Meals Served: Lunch & Dinner
For fabulous lunches and dinners with the sea as your backdrop, Le Cap Horn is our gastronomic restaurant. Chef Daniel Le Guénan coordinates a team of 35 cooks and pastry chefs to provide gourmet dining excellence.

La Verrière
Cuisine Type: Continental
Meals Served: Breakfast, Lunch & Dinner
La Verrière offers traditional and dietetic menus in a charming garden conservatory setting. Crystal chandeliers and an atmosphere of light and luminosity are the perfect way to start your day with our impressive continental breakfast buffet.
La Terrasse
Cuisine Type: Continental
Meals Served: Seasonal
La Terrasse offers seaside surroundings in fine weather. Enjoy salads, grilled fish and meat skewers, then savour ice creams and desserts with a magnificent view of the beach and the Saint-Malo bay at any time during the day.

La Passerelle Bar
Cuisine Type: Continental
Meals Served: Lunch, Dinner
La Passerelle Bar provides lovely sea views through large bay windows. Enjoy a moment of relaxation accompanied by cocktails and alcohol-free drinks, a selection of whiskies and the best Champagnes. Lunch offers sandwiches or warm savoury tarts, tea time features delicacies from Pastry Chef Pascal Pochon and in the evening, enjoy a drink in the warm atmosphere of our piano bar.