The Landmark
The Landmark Restaurant, a longtime Dallas icon, is an elegant, historic venue with a relaxed and comfortable atmosphere in Uptown Dallas.
Our Executive Chef's modern, Nouveau-Americana menus celebrate Warwick Melrose – Dallas's heritage by infusing classic American favourites with a fresh and contemporary approach.
Discover our elegant restaurant in Dallas

Breakfast
Monday - Friday from 6:30 am to 11:00 am
Saturday and Sunday from 7:00 am to 11:00 am
Lunch
Monday - Friday from 11:00 am to 2:00 pm
Saturday - Sunday from 11:00 am to 2:00 pm
Dinner The restaurant is closed for dinner
---
Guests will experience a variety of new choices on the revamped breakfast & lunch menus that speak to both ladies who lunch and gentlemen in search of an entrée of Texas-style proportions.
For reservations, please call 214.224.3152 or book online.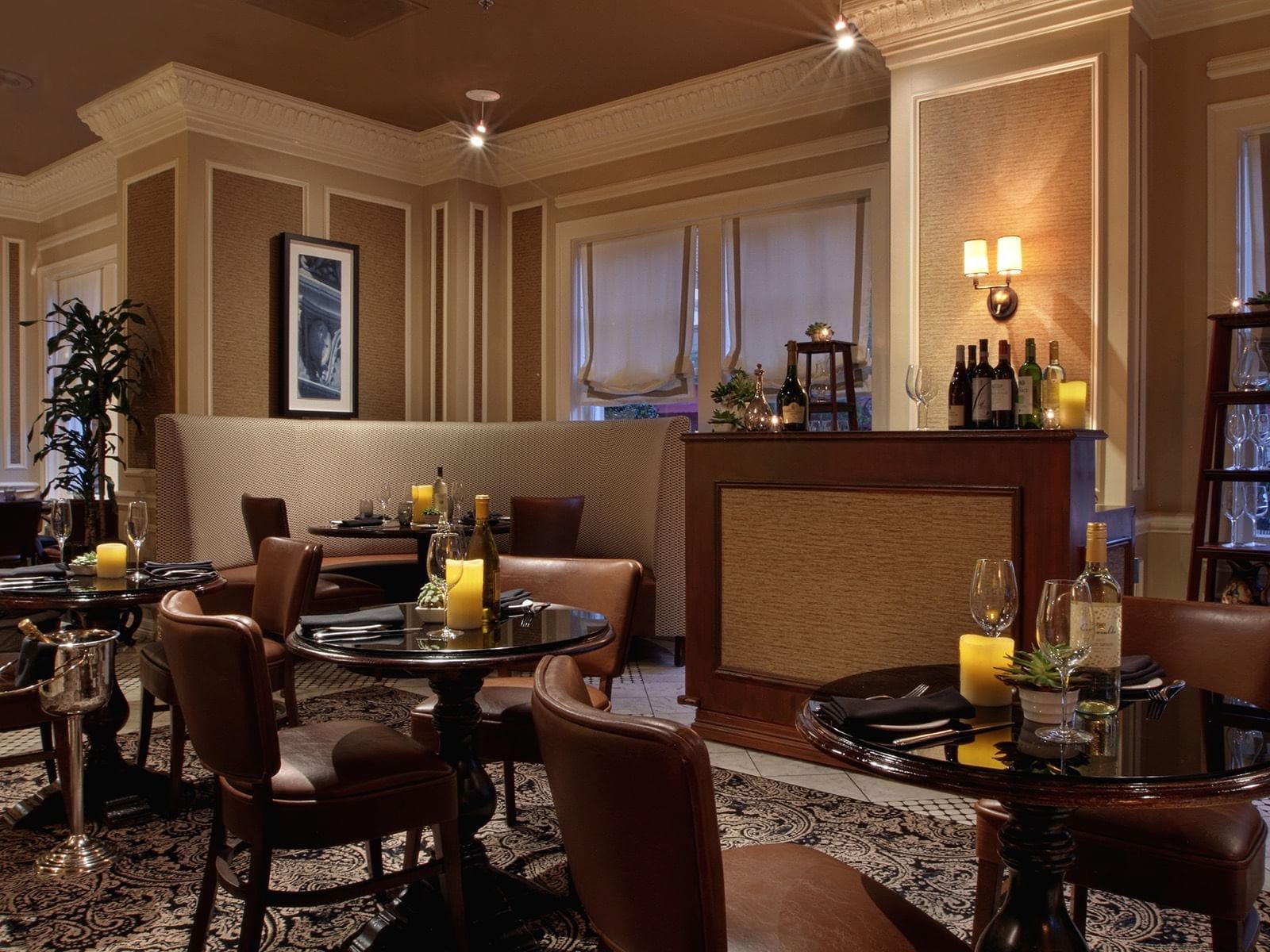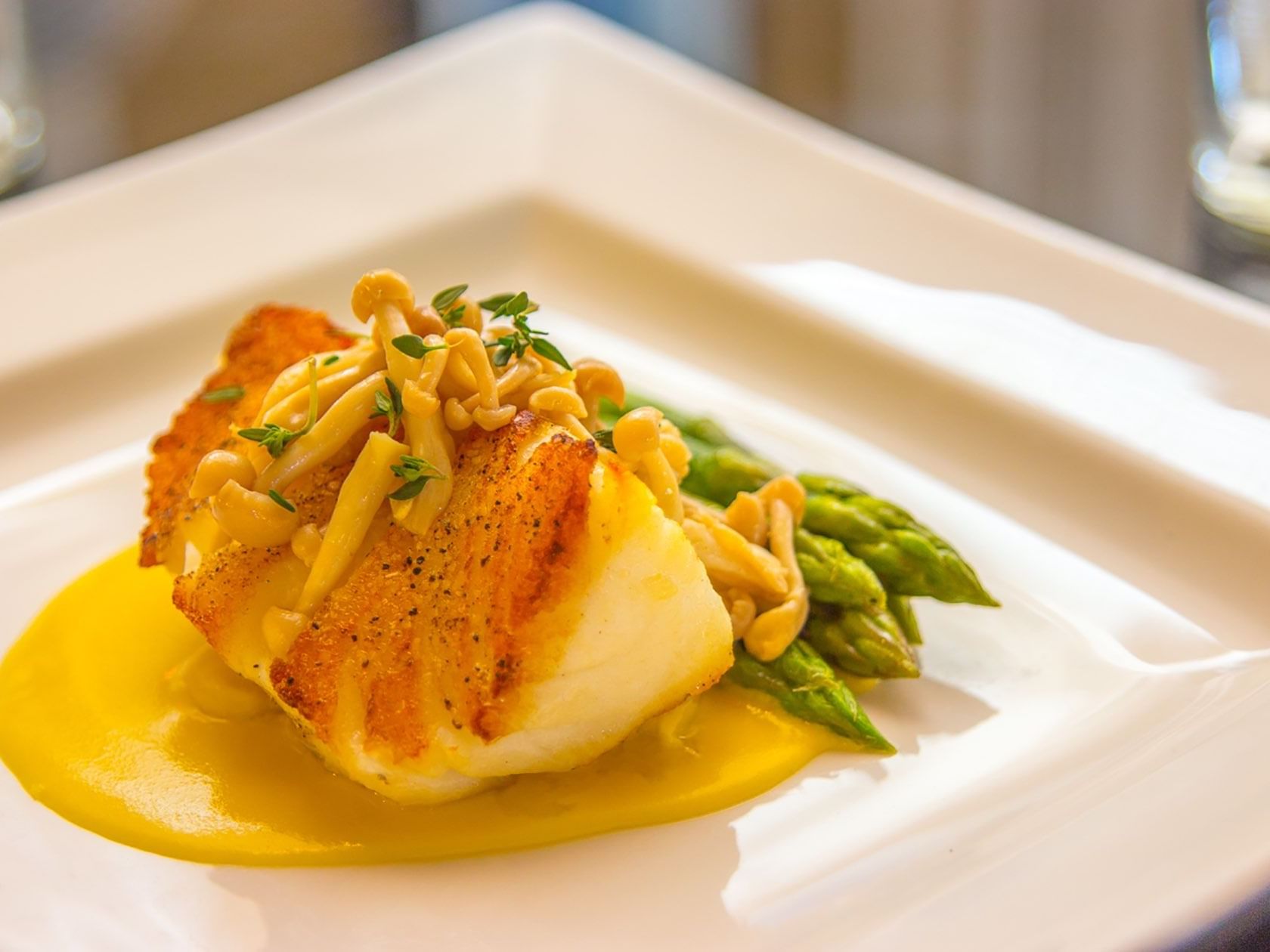 A delight for the palate. A feast for the eyes.
2022 Thanksgiving Day Brunch Buffet
Breakfast Breads, Muffins and Pastries
Melrose Coffee Cake
Fresh Melons and Berries
International Cheese Platter with Dried Fruits and Nuts
Vegetables and Crudités with Avocado Ranch Dressing
Mixed Greens with House Made Ranch and Balsamic Vinaigrette
Arugula and Frisee Salad with Cranberries, Goat Cheese, Toasted Walnuts and Cherry Vinaigrette
Roasted Tomato Hummus & Grilled Naan
Broccolini Salad
Cucumber Salad with Lemon Dijon Dressing
Heirloom Tomato and Pine Nut Salad with Fresh Mozzarella and Aged Balsamic
Farfalle Salad with Kalamata Olives, Roasted Tomatoes, Feta Cheese and Cracked Herbs
Seafood Station
Smoked Salmon with Traditional Garnishes
Chilled Poached Shrimp
Cocktail Sauce
Spicy Remoulade
Hot Displayed Items
Roasted Herbed Turkey with Giblet Gravy and Cranberry Sauce
Traditional Cornbread and Herb Stuffing
Pan Seared Salmon & Creamy Piccata Sauce
Mr. Pibb Pork Loin with Creole Mustard Cream
Pan Seared Chicken Breast with Trumpet Mushroom Ajus
Loaded Mashed Russet Potatoes with Bacon, Cheddar and Chives
Sweet Potato with Marshmallow Topping
Brown Sugar Baby Carrots
Butter Roasted Winter Vegetables with Citrus Zest
Eggs Benedict
Sausage and Bacon
Biscuits and Gravy
Action Stations
Virginia Baked Ham with Dijon and Maple Glaze
Hickory Smoked Roast Beef with Merlot Demi-Glace, Horseradish Cream and Dinner Rolls
Made To Order Omelet and Waffle Station
Children Station
Chicken Fingers
Macaroni and Cheese
Peanut Butter and Jelly
Assorted Cookies and Brownies
Desserts
Assorted Pies to Include: Apple Pie, Cherry Pie, Pumpkin Pie and Chocolate Pecan Pie
Assorted Cakes to Include: Chocolate Mousse Cake, Carrot Cake, and Red Velvet Cake &
Assorted Mini's
Mimosas included
Seating From: 11am to 3pm
Adults: $85 per person, Children 5yrs – 12 yrs $25, Children under 5 yrs free
Tax and Gratuity are Not Included
For Reservations call: 214.224.3152 or Online at www.warwickhotels.com/dallas
Starters
Smoked Salmon Platter :

Toasted Bagel / Capers / Shredded Eggs / Cream Cheese Red Onion

$15

Seasonal Fruit Platter :

Sliced Fruit / Hand Picked Berries / Caramel Almond Yogurt Dip

$10

Steel Cut Oatmeal :

Served With Raisins, Vanilla Bean Cream and Brown Sugar

$8

Oatmeal Brûlée :

Steel Cut Oats / Fresh Berries / Charred Banana

$10

Parfait :

Texas Honey Infused Greek Yogurt / Fresh Berries Pecan-Honey Blossom Granola

$8

Organic Smoothie :

Vanilla bean Yogurt / Poteet Strawberries / Bananas

$7
Omelets and Eggs
Smoked Salmon Benedict :

Scottish Salmon / Fried capers / Hollandaise / Poached eggs

$18

Filet and Eggs :

Two Eggs Your Way / Local Petite Filet Mignon / Grilled Asparagus

$20

American Breakfast :

Two Eggs Your Way / Choice of Bacon, Ham or Link Sausage

$13

Egg White Omelet :

Spinach / Mushroom / Shredded Mozzarella
Roasted Tomato Salsa

$14

Texas Omelet :

House Made Chorizo / Red and Yellow Bell Peppers Onions / Pepper Jack Cheese

$14

Three Egg Omelet :

Build Your Own From the Following Ingredients:Mushrooms / Spinach / Ham / Cheddar Cheese / BaconSausage / Green Onions / Bell Peppers / Tomatoes

$14
Entrées
Avocado Toast :

Avocado Smash / Pan Fried Egg / Heirloom Tomatoes
Jalapeño Cheddar Sourdough / Sesame Seeds / Fresh Herbs

$13

Green Chile and Black Bean Migas :

Warm Flour Tortillas / Tomatillo Salsa / Pepper Jack Cheese

$13

Biscuit and Gravy :

Buttermilk Drop Biscuits / Jalapeño Sausage Gravy

$12

Smoked Turkey Hash :

Poached Eggs / Bell Peppers and Onions /Hashbrown Potatoes

$14
Accompaniments
Boxed Cereal :

Cheerios / Corn Flakes / Frosted Flakes / Mini Wheats / Rice Krispies
Special K / All-Bran / Raisin Bran

$5

Bagel with Cream Cheese

$5

Toast: :

Served With Butter and Assorted Jellies
Choice Of: White / Wheat / Whole Grain / Rye / English Muffin

$4

Hash Browns or Melrose Potatoes

$5

Danish, Mun or Croissant

$4

Link Sausage or Grilled Ham
Bacon, Applewood Smoked Bacon, Canadian Bacon,

$5

Farm Fresh Egg, Any Style

$3

Grapefruit Half

$5.5

Cup of Berries or Sliced Fruit

$6
Beverages
Latte and Cappuccino with Choice of Milk

$5

Lavazza French Roast Coffee

$5

Lavazza Espresso / Decaeinated Espresso Coffee

$5

Selection of Warwick Journeys Custom Blended Teas

$5

Choice of Milk: Whole / 2% / Fat Free / Soy

$5

Tomato Juice, V-8 or Classic Virgin Mary

$5

Cranberry Juice or Apple Cider

$5

Freshly Squeezed Orange Juice / Grapefruit Juice

$5
Served daily from 11:00 a.m. - 10:00 p.m.
BEVERAGES
Coffee / Tea / Soft Drinks / Juice / Ice Tea / Lemonade $6

English Breakfast, Earl Grey, Lemon Ginger, Mint, Raspberry Hibiscus, Sencha Green, Spice Chai, Chamomile
Coke, Diet Coke, Sprite, Dr. Pepper, Ginger Ale, Fiji water .5 L. Orange, Grapefruit, Apple, Cranberry, Tomato, V-8

BEERS
Domestic Beers:
Budweiser, Bud Light, Miller Lite, Coors Light, Michelob Ultra, Fat Tire $7

Imported Beers:
Heineken, Corona, Stella Artois, Guinness, Dos Equis, Fat Tire $8
DISHES
Classic Tortilla Soup $9
Shredded ancho chicken, fresh avocado, tortilla strips

Caesar Salad $12
Romaine hearts, black pepper, pecorino crisp

Melrose Salad $12
Red oak, green leaf, cranberries, peppered goat cheese,
candied pecans, champagne vinaigrette

Melrose Burger $18
Half-pound angus beef and brisket patty, Brazos Valley
cheddar, shredded lettuce, hot house tomato, Melrose aioli

Texas Toast Club Sandwich $15
Oven-roasted turkey breast, black forest ham, applewood
smoked bacon, Brazos Valley cheddar, lettuce, tomato,
onion, peppered mayo, brioche Texas toast

Melrose Reuben Sandwich $15
Choice of smoked turkey or corned beef, sauerkraut,
gruyere, house-made Thousand Island

Smoked Brisket Sliders $15
Horseradish Cream, brioche bun

Chicken Bacon Ranch Hoagie $15
Toasted Hoagie, Grilled Chicken, Crispy Bacon, Lettuce, Tomato

Margarita Flatbread $14
Candied tomatoes, sweet basil pesto, buffalo mozzarella

Gulf Shrimp Pasta $24
Roasted Tomato, Mushroom, Sweet Peas, Grated Parmesan, Cream Sauce

Beef Tenderloin 6oz. $34
Cheddar Mashers, Roasted Mushroom, and Red Wine Demi

Roasted Chicken Breast $26
Roasted Potato, Broccolini, Pan Jus

Chef's Board $26
Hand Carved Charcuterie/Regional and International Cheese
Fresh Berries

WINE
WHITE WINE

Chardonnay, Neyers, Sonoma $19 / $75

Sauvignon Blanc, Dog Point, New Zealand $16 / $64

Pinot Grigio, Santa Margherita, Italy $18 / $70

RED WINE

Pinot Noir, Resonance, Oregon $17 / $68

Merlot, Napa Cellars, Napa $17 / $68

Cabernet, Hess, North Coast $15 / $60