Restaurant Murals on 54
Just like the hotel itself, Mural's on 54th is rich with history. This restaurant was named after the vivid murals that cover its walls.
Painted by Dean Cornwell, a famous illustrator and muralist of the early 20th century, these artworks offer a quintessential Manhattan setting for enjoying our delectable bar bites, classic cocktails and a wide selection of beer and wines to get your evening started.

Mural's on 54 currently offers Sweet and Savory bar appetizers as you indulge in your favorite cocktail, glass of wine or beer.

For special private events, please contact our catering department for more information at (212) 314-7779.

Available for Dine In or Pick Up
5:30pm to 11:00pm Tuesday - Saturday
Stop by Murals on 54th Tuesday – Saturday and enjoy our
Happy Hour all evening long.
Weekdays
Tuesday - Friday
Dine In or Pick Up: 5:30pm to 11:00pm
Happy Hour all evening long
Weekends / Holidays
Saturday
Dine In or Pick Up: 5:30pm to 11:00pm
Happy Hour all evening long
---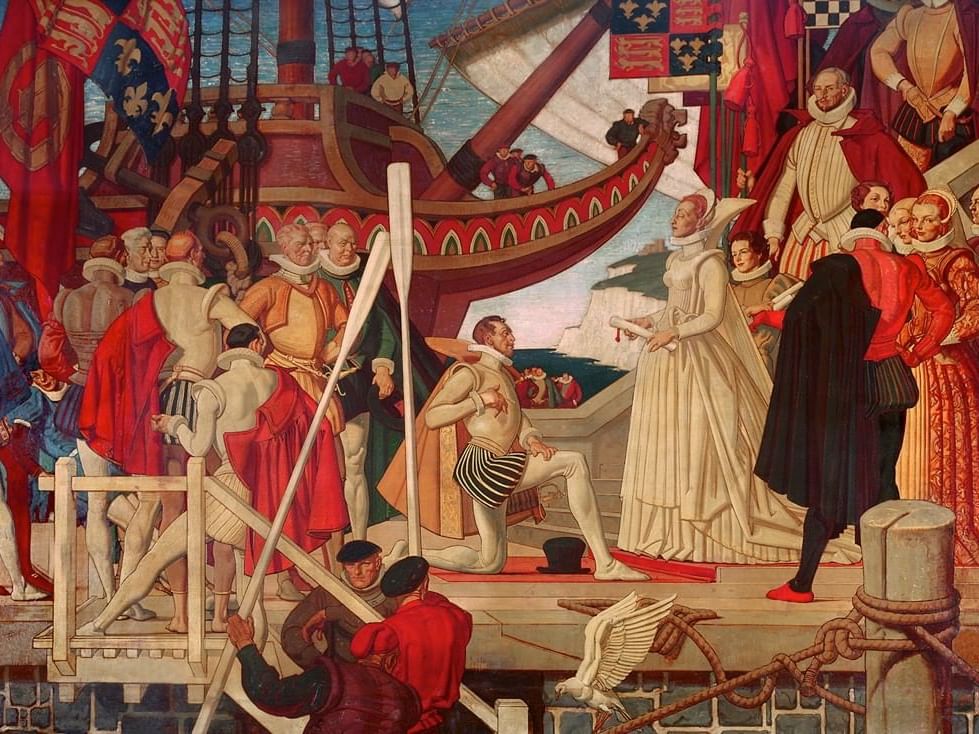 The murals have been completely restored for your own pleasure
Tuesday - Saturday
Happy Hour all evening long

$9
Well Drinks
Murals Sangria (White & Red)

Craft Cocktails on 54th
$11
Cherry Bourbon Smash
Jim Beam, Heering Cherry liqueur, Lemon juice
Choc & Rock
Absolute Vodka, Baileys Irish Creme, Kahluah Coffee Liqueur, Chocolate Syrup
Beez knees
Tanqueray Gin, Lemon juice, Honey
Classic Cosmo
Ketel One Citroen Vodka, Cointreau, Cranberry Juice, Lime Juice
Martini
Grey goose, Martini & Rossi Dry Vermouth

Bottled/Canned Beers - $6
Coors, Budweiser, Bud Lite, Stella, Amstel Light, Michelob Ultra, Heineken

Bar Snacks
Citrus Herbed Olives
$4
Spiced Mixed Nuts
$3
Available for Dine In or Pick Up
5:30pm to 11:00pm Tuesday - Saturday
Starter
Vietnamese Chicken Satay :

Marinated with Lemon Grass, Chili, Garlic with Spicy Mustard

$14

Saigon Pork Belly Boa :

Pickle Cucumbers, Cilantro, Steamed Buns

$15

Prawns a la Plancha :

With Romesco Sauce

$19

Duck Confit with Crispy Potato :

Long Chili, Cilantro, Green Onion, Chipotle Aioli

$16

Charcuterie :

Prosciutto, Dry Chorizo, Soppressata, Soft Cheese I Hard Cheese,
Honey, Quince Paste & Country Bread

$24
Sides
Crispy Brussels Sprouts with Honey Aleppo Pepper

$8

Yukon Gold Pomme Puree

$8
Champagne
Nicolas Feuillatte

$99

Moet & Chandon

$145
Soup and Salad
Sweet Corn Bisque Soup :

Creme Fraise

$14

Caesar Salad :

Gem Lettuce, Parmesan, Anchovies and Brioche Croutons

$17

Asian Chicken Salad a la Hue :

Confit Chicken, Mixed Greens, Red Chili, Cashew Nuts, Cilantro, Shaved Radish, Carrot, Lime Honey Vinaigrette

$18

Jumbo Lump Crab Salad :

Avocado, Brioche Toast

$24
Entrees
House Made Pappardelle Pasta :

Bolognese Sauce, Pecorino Cheese

$22

Prawn Tomato Risotto :

With Crispy Shallots

$25

House Made Agnolotti Pasta :

Ricotta, Pecorino, Parmesan, Sage Butter, Toasted Pine Nuts

$25

Seared Scallops :

Pancetta, Corn, Green Onions with Corn Veloute Sauce

$34

Coconut Curry Striped Bass ( Hanoi Style) :

With Lemon Grass, Steamed Basmati Rice, Avocado, Crispy Leeks

$34

Chicken Paillard :

Thinly Pounded Chicken Breast, Arugula, Cherry Tomato, Hot House Cucumber, Shaved Red Onion, Lemon Vinaigrette, Crispy Shallots

$24

Burger on 54 :

6 oz Patty, Brioche Bun, Cheddar, Caramelized Onions and French Fries

$25

Steak Frites :

12 oz 28 Day Dry Aged Strip with Chimichurri Sauce

$39

Prime Rib Eye :

16 oz Charred Grilled

$49
Dessert
Chocolate cake :

with Crème Fraîche

$10

NY Cheese Cake

$10

Vanilla and Chocolate Ice Cream or Sorbet

$8

Regular and Decaffeinated Coffee and Selection of Harney's and Warwick Signature Teas

$5
Cocktails
Rose Drop :

Grey Goose Vodka, Al Wadi Rose Water, Simple Syrup, Lemon Juice

$17

Godfather :

Woodford Reserve Bourbon, Disaronno Amaretto

$17

Repo Margarita :

Don Julio Reposado Tequila, Grand Marnier, Simple Syrup, Lime Juice

$17

The Deep :

Hennessy Cognac, Pavan Liqueur de France, Blue Caracao, Apple Juice

$17

Jungle Bird :

Meyers Dark Rum, Campari, Pineapple Juice, Fresh Squeezed Lime Juice

$17

Manhattan :

Crown Royal, Angostura Bitters, Martini & Rossi Sweet Vermouth

$17

Moscow Mule :

Absolute Vodka, Saranac Ginger Beer, Lime Juice

$17

Old Fashioned :

Knob Creek Bourbon Whiskey, Simple Syrup, Angostura Bitters

$17

The Garden :

Bombay sapphire Gin, St. Germain Liqueur, Cointreau, Lemon Juice, Apple Juice

$17
Beers
Coors Light

$9

Budweiser

$9

Bud Lite

$9

Heineken

$9

Blue Moon

$9

Amstel

$9

Guinness

$9

Stella

$9

Corona

$9

Angry Orchard Hard Cider

$9

Michelob Ultra

$9

Tsing Tao

$9
Red Wines
Tinto Negro, Malbec :

Mendoza, Argentina, 2017

$14/$59

Josh Cellars, Pinot Noir :

Central Coast, California, 2019

$14/$56

Toad Hollow, Merlot :

Sonoma County, California, 2017

$16/$64

Placido, Chianti :

Tuscany, Italy, 2017

$16/$64

Bonizio, Tuscan Red Blend :

Toscana, Italy, 2017

$19/$79
White Wines
Ruffino, Pinot Grigio :

Delle Venezie, Italy, 2018

$13/$52

Josh Cellar Chardonnay :

Columbia Valley, Oregon, 2018

$14/$56

Kim Crawford, Sauvignon Blanc :

Marlborough, New Zealand, 2018

$16/$64

Ruffino Prosecco :

Valdobbiadene, Italy

$13/$49
Blush / Rose Wines
Rose Haven, Rose :

California, 2018

$16/$64

Stone Cellars, White Zinfandel :

California, 2016

$15/$60