Misty Hills Country Hotel, Conference Centre & Spa
Enjoy our spa hotel accommodation in Muldersdrift, South Africa
If it's service excellence with an authentic African twist that you are after, then Misty Hills Country Hotel, Conference Centre & Spa welcomes you. Nestled in the foothills of the Swartkop mountains on the threshold of the beautiful Kromdraai Valley in Muldersdrift, Misty Hills is one of the most popular venues in Gauteng. Our charming stone-built hotel embodies the ethos of Africa. Set in more than 60 acres of lush botanical gardens, rich with local and South African history, each of our 195 stone-built, thatched accommodations is furnished to complement the indigenous surroundings and lavishly decorated with brightly coloured native fabrics, artwork and handmade furniture. Our elegant Royal and Presidential Suites have enclosed gardens and plunge pools, offering discerning guests total privacy, luxury and exclusivity. The world-famous Carnivore Restaurant offers a truly authentic African dining experience where diners feast on a sumptuous variety of game and domestic meats, and we feature a top spa with a variety of indulgent treatments to suit individuals, couples, groups and corporate guests.
Key Features
Experience the splendour of rich African hospitality in the heart of Gauteng. Misty Hills Country Hotel, Conference Centre & Spa features two swimming pools, a carefully landscaped botanic garden and four fine dining outlets, as well as extensive meeting facilities and a well-equipped spa.
Fitness Centre

Indigenous Botanical Gardens

Orchid House

Conference Centre with 23 Meeting & Banquet Rooms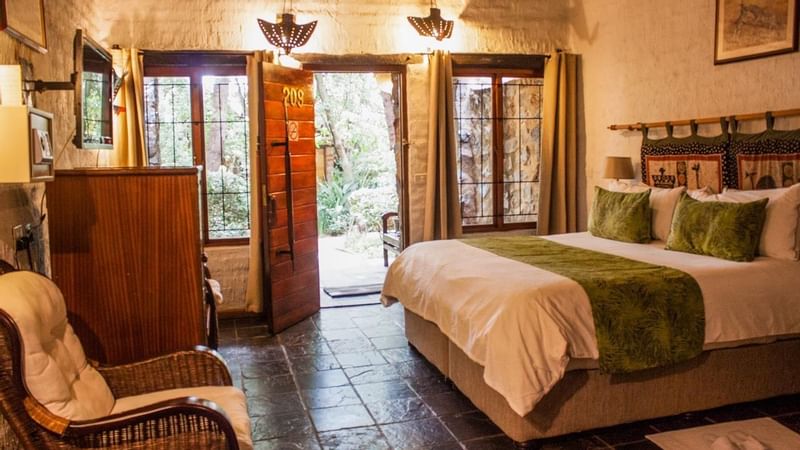 Deluxe Rooms
Discover our inviting Deluxe Rooms, built in traditional village style complete with stone floors and thatched roofs. Showcasing authentic African artwork, these rooms in Muldersdrift boast views of the natural botanical garden amid lovely water features and are equipped with two twin or one double bed and en-suite bathroom with bath and shower.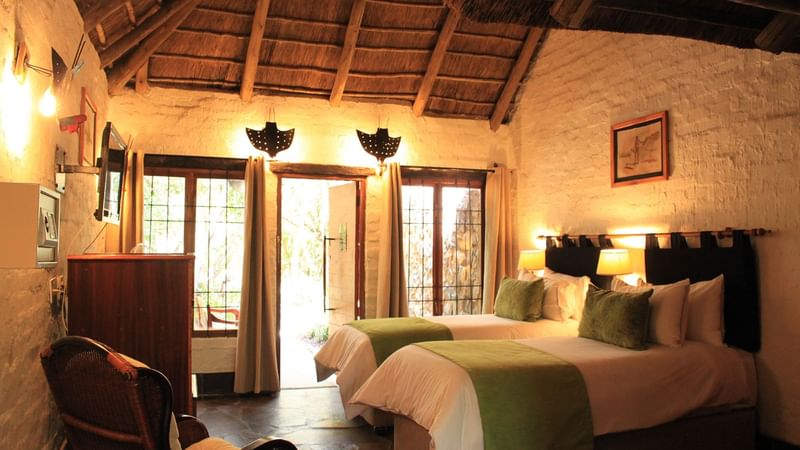 Super Deluxe Rooms
Our Super Deluxe Rooms offer traditional village décor with stone floors and floor to ceiling windows set amid natural vegetation and water features. Featuring authentic African art, these rooms in Muldersdrift boast views of the impressive botanical garden and are equipped with one double or two twin beds and en-suite bathroom with bath and shower.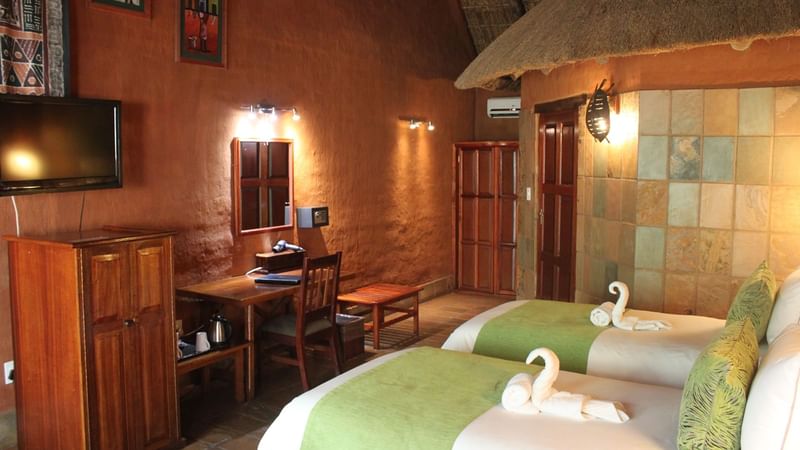 Deluxe Superior Rooms
Built with a truly traditional village feel, our Deluxe Superior Rooms offer splendid views of the incredible botanical garden. These charming rooms in Muldersdrift offer one double or two twin beds with en-suite bathroom with bath and shower. The seating area and features stonework with thatch design details.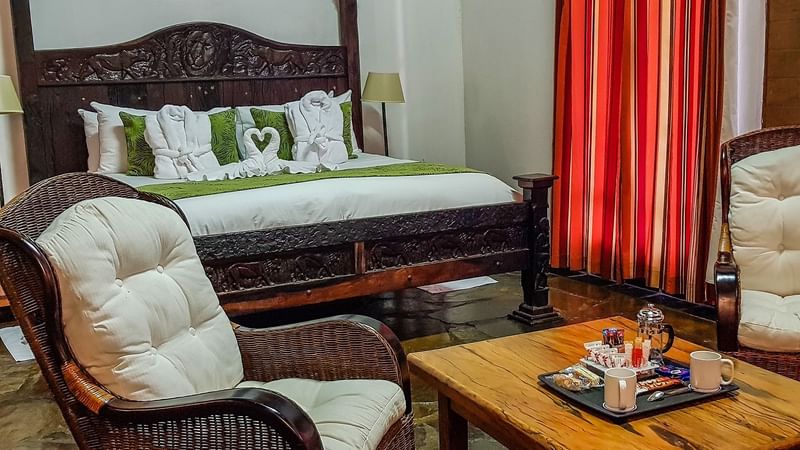 Classic Executive Suites
These upscale suites are located in a secluded area with water features and the beautiful botanic garden surrounding you. Suites in Muldersdrift have stone floors, a comfortable lounge area with wood and zebra stripe décor, a bedroom with a king size bed, an en-suite bathroom with a bath and shower and a separate outside shower in your private garden.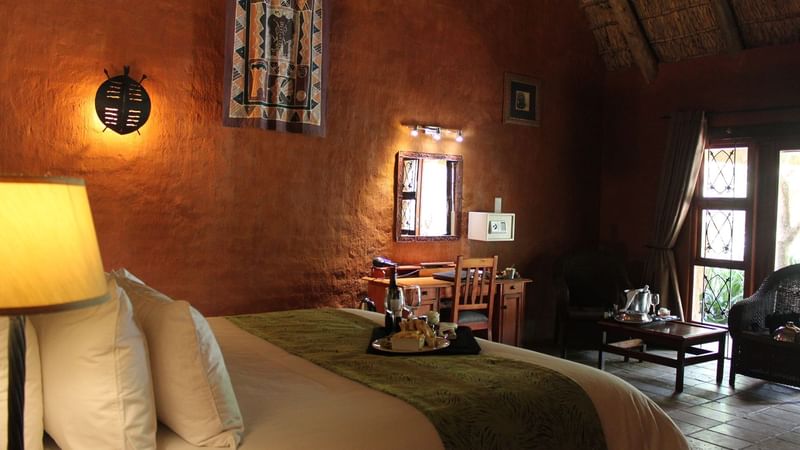 Executive Suites
Located within the lush botanical gardens, these suites offer exceptional luxury and privacy. Impressive African décor includes stone and tilework, wooden furniture and thatched roof. Each suite consists of a lounge area, bedroom with a king size bed, en-suite bathroom with oval bath and shower plus an outside shower to enjoy in your own private garden.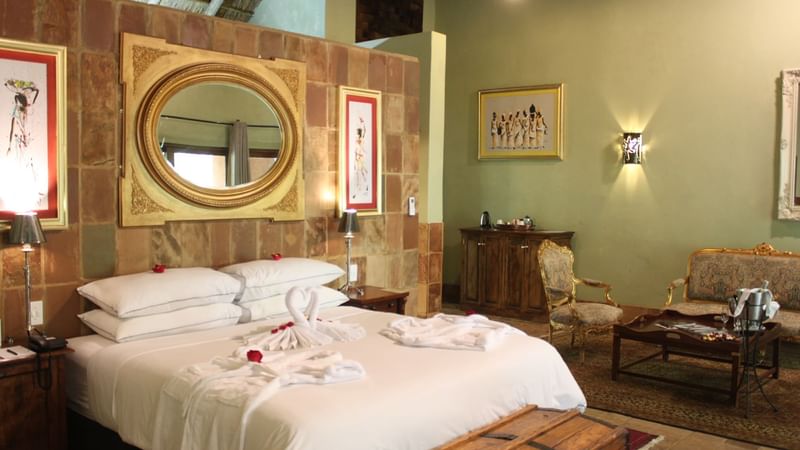 Junior Suites
Junior Suites are chic spaces with a modern African feel, featuring rich red highlights, intricate stone and tilework, wooden and rattan furniture and a thatched roof. Each suite offers views of the impressive botanical garden and is equipped with king size bed, satellite television, air-conditioning and en-suite bathroom with Hot Tub and shower.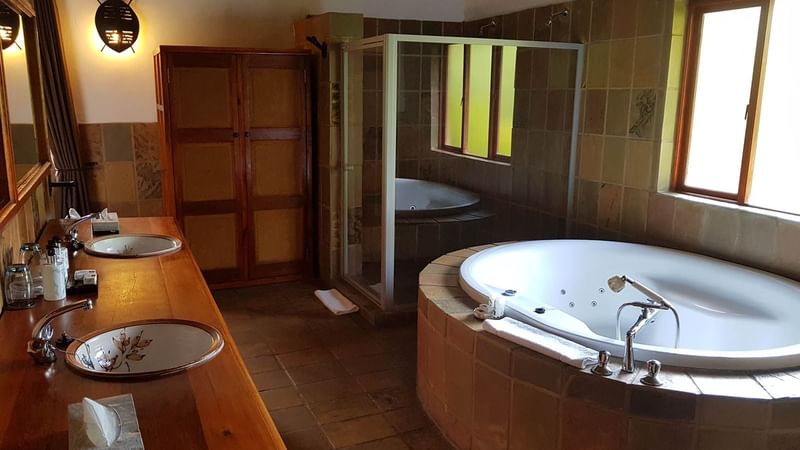 Royal Suites
Royal Suites are exclusive accommodations offering all the delights of ultimate African comfort and style. Rich furnishings include stonework, plush sofas and chairs and antique wooden furniture. A sitting area looks out through sliding glass doors onto the landscaped botanical garden, and the en-suite bathroom features a sunken bath and outdoor shower.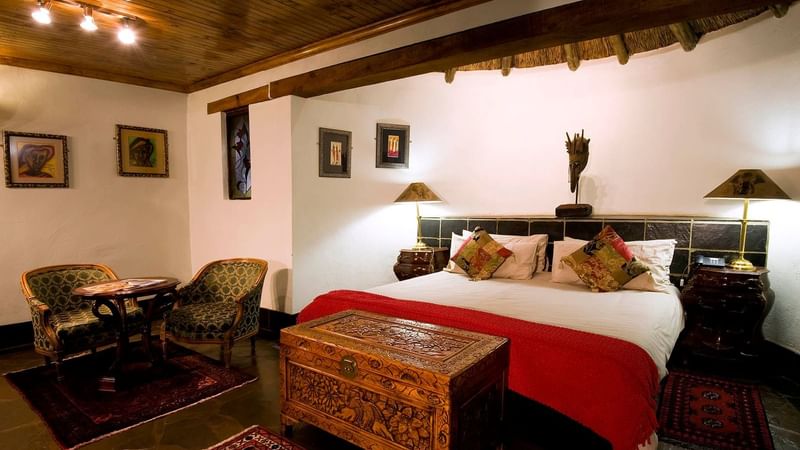 Presidential Suite
Our spectacular Presidential Suite features a beautifully landscaped private garden complete with patio dining area under a thatched roof and your own plunge pool. A luxurious lounge area is furnished in the best African style with authentic antique furniture. Two bedrooms have spacious en-suite bathrooms featuring sunken bath and outside shower.
View all rooms
Contact & Location
Misty Hills Country Hotel
69 Drift Boulevard (R114), Muldersdrift - 1474 Johannesburg, South Africa

Gin Box Pub & Coffee Shop
Cuisine Type: Continental
Fancy a light snack or a quick meal? Enjoy a variety of hearty pub food as well as healthy salad options, great coffees and delectable cakes and pastries. Indoor and outdoor seating is available so guests can take advantage of the gorgeous garden views.

Summerhouse Restaurant
Cuisine Type: Continental
This versatile and welcoming eatery can accommodate both a la carte and buffet styled menus. The Summerhouse Restaurant features wooden floors and large windows overlooking our botanical gardens and can seat up to 130 guests.

The Boma
Cuisine Type: Continental
For relaxed buffets or formal functions around a central fireplace, the authentically African Boma can accommodate up to 200 people.

The Carnivore Restaurant
Cuisine Type: Continental
Your beast of a feast begins with delicious homemade soup and honey bread. Sip on a Dawa – our traditional house cocktail of vodka, honey and lime – as a Lazy Susan with a small flag on top is placed in the centre of your table, bearing six different fresh salads and various sauces to compliment your meal. Waiters circulate wielding Masaai spears with a wide variety of game and domestic meats, ranging from beef, chicken, boerewors and pork to ostrich, kudu and crocodile, to name a few – all charcoal-grilled and expertly carved directly onto your hot cast-iron plate. Traditional pap and sauce, and a baked potato accompany this fabulous meal. Eat as much as you wish, and when you have had your fill, simply surrender by lowering your flag. To finish off, a selection of delicious desserts is accompanied by tea or coffee.